AW Carpets Ltd. are Ireland's Leaders in the Design & Manufacture of Bespoke Axminster & Wilton Carpets. Offering you High-End, High-Quality & Luxury one off a kind Carpets and a unique design experience.
Contact our sales Team Today to start your design journey.
We have over three decades providing our clients with an elite bespoke Axminster and Wilton design experience. Working closely with 'Imperial Carpets' and their expertise in designing and manufacturing, we can help to create your vision and make it a reality. With our extensive portfolio of already satisfied clients, you can trust us to deliver on your vision.
Our Dublin based company has worked closely with the following industries throughout Ireland & the UK, offering custom-designed quality carpets.
Major Hotel Chains
Club Houses
Casinos
Theatres
Restaurants
Hospitals
Residential Care Homes
Schools & Colleges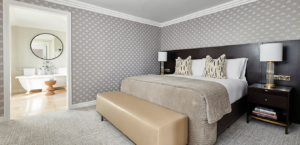 We design and manufacture Axminster and Wilton carpets, designed to meet the desires and needs of our clients.
AW Carpets Ltd. prides itself on being one of the market leaders in Ireland today. Our dedicated team of professionals are always on hand to offer the highest standards of service to our clients.
To ensure that our customers receive the highest standards of service, with a Customer-Centered approach our core values speak for themselves with our excellence and superior product quality.
Bespoke Design Can Offer You.
Design & Manufacture of Bespoke Axminster & Wilton Carpets.
The highest quality at very affordable prices.
Flexibility in design and layout.
An in-house design department, to help with producing your design using an extensive colour pallet.
Our team will work closely with your designers and produce free laser design prints and sample colour and design.
Fast production times.
The possibility of different and custom widths which minimises wastage and reduces installation time.
Our product comes with the CE mark of approval.
We comply with international fire regulations.
Contact Our Sales Team Today.
simply send us an email on sales@awcarpets.ie or contact us by phone we are here to help you in any way possible.